Long Island Gutter Cleaning
4 REASONS TO HAVE YOUR GUTTERS PROFESSIONALLY CLEANED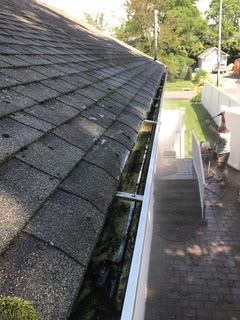 PREVENT FLOODING WITH LONG ISLAND GUTTER CLEANING
Gutters clogged with leaves, twigs and debris will lead to ice damming during the winter months. Ice damming will cause flooding in your home originating from the roof line. Clogged gutters will also not push the water away from your home and can cause basement flooding through any foundation cracks.
DETER PEST INFESTATIONS WITH LONG ISLAND GUTTER CLEANING
Clogged gutters can lead to pest infestations. Insects and rodents can nest in the leafy debris within your gutters and can eventually make their way into your home and damage your property. Also gutters with standing water is a perfect breeding ground for mosquitoes that can carry diseases.
IMPROVE CURB APPEAL WITH LONG ISLAND GUTTER CLEANING
Clogged gutters and leaders will leave unsightly dirt and mildew streaking on the gutter face and will run down the face of your home as well.
ENHANCE YOUR LANDSCAPING WITH LONG ISLAND GUTTER CLEANING
Excess water overflow from clogged gutters will cause water pits, soil erosion and can destroy many plants.
Long Island Helpful Services offers gutter cleaning in Long Island's Nassau and Suffolk counties. Our cleaning methods include hand cleaning, blow out and our ladder free vacuum cleaning system.
CALL NOW FOR YOUR FREE ESTIMATE!
516-300-1937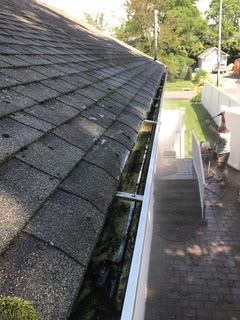 Why do you have gutters in the first place? If your gutters are clogged, you might as well not even have them. Gutters divert water to prevent erosion around the foundation of your home and it is important to keep them clean and clear of debris. Full gutters are also a haven for a variety of insects that can cause permanent damage to your home and are at the very least, unsightly.
Our Gutter Cleaning Process in Long Island
We start by ensuring that all of your gutters are clear of leaves, limbs, and foreign objects. Once all debris has been removed we pay special attention to downspouts to make sure that they are draining correctly and that your gutters are functioning properly.
Once that is complete we give your gutters a thorough wash. Years of exposure to roof tar can leave your gutters stained. We apply the right combination of detergents, and a little bit of elbow grease, and then rinse with our top of the line pressure washing equipment to make sure that your gutters are as bright as ever and working properly.
Let us help preserve your home and make gutter cleaning a regular part of your home's maintenance.
Importance of Keeping Your Gutters Cleaned
Over time, your gutters will accumulate a fair share of debris, such as leaves, twigs, and dirt. While these items may seem harmless, when they build up in your gutters they can obstruct the flow of water. When the water can't be channeled through your gutters as designed, it will compile and take aim on your home. Some of the damaging side effects of clogged gutters include: Rotted Wood, Leaky Roof, Water Damage Within Your Home, Insect Infestation, Damaged Foundation, Damaged Doors, and Other Structural Damage to Your Home.
Contact us today for a free gutter cleaning quote