Shrink Wrapping Long Island
Shrink Wrap Service on Long Island
Long Island Helpful Services conveniently offers shrink wrapping services!
One of the most important benefits of shrink wrapping outdoor furniture is protection. Once the shrink wrap is applied, heated, and sealed, it will fully protect the items underneath. This means your investment is protected from the damage that can be caused by moisture, dirt, snow and ice.
What Can be Shrink Wrapped?
Shrink wrap protects against weather damage, is waterproof, and extends the useful life and beauty of everything it protects, including your investment in your home. Most importantly, it can fully accommodate virtually every item outside your home, including:
Gazebos

Lawn, Patio, Pool Furniture

Grills, BBQs, Fire Pits. 

Yard Ornaments

Air Conditioners

Swing Sets

Bars

Outdoor Kitchen Islands

Above Ground Pools and Hot Tubs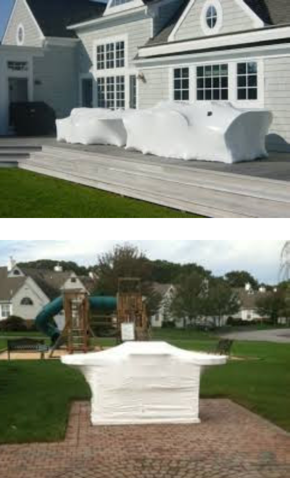 Shrink Wrap Service on Long Island
Anything that's going to be stored outside and subject to the elements for any extended period of time needs to be protected with shrink wrap. Shrink wrap is a high-strength, polyethylene (plastic) with UV inhibitors. This material shrinks when heated to create a highly-effective seal exponentially tighter than possible with tarps, ropes or bungees.
Shrink wrap keeps the weather out of your belongings, while preventing the tearing and stretching that tarps commonly display after a short period in the elements. Long Island Helpful Services offers a shrink wrapping service to preserve your outdoor items and keep them looking good and clean through the wet, cold, icy winters on Long Island.
Whether you're looking to winterize your outdoor items or simply protect them from the elements, our shrink wrapping service is the premier solution.
Contact us today for a free shrink wrapping quote