Long Island Power Washing
Power Washing for your Long Island home
As Long Island's premiere power washing cleaning company our services are second to none. We take great pride in beautifying our clients' homes and businesses exteriors. Using only state of the art mobile hot, cold, and steam adjustable power washing systems we can ensure no surface damage and guarantee a happy satisfied customer after every job. Call us today for your free no hassle, no obligation estimate.
Power washing is a common way of describing washing anything with a power washer. Make sense, right? We go to great lengths to let our customers know that while we do use top of the line power washing equipment to accomplish our tasks, we are not always using high pressure. Most of the time we are using about the same pressure as a common garden hose.
While that is the best approach for many applications such as house washing or roof washing, there is one major area where we still use pressure washing as the primary means to clean, and that is concrete.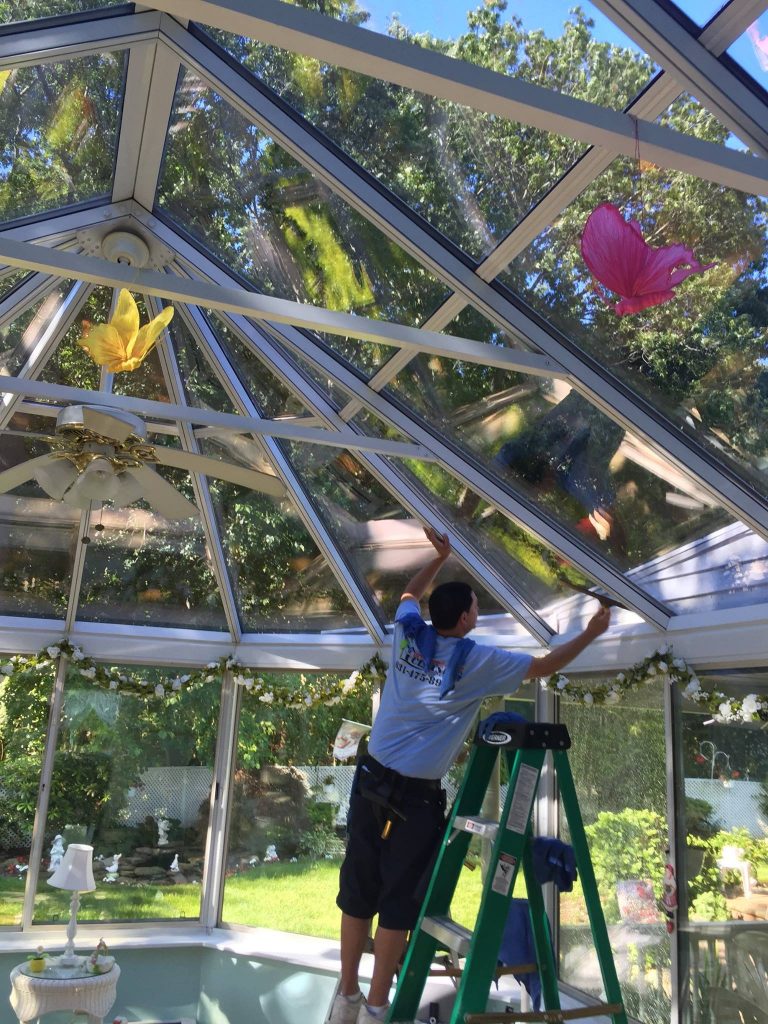 Concrete Cleaning and Driveway Cleaning in Long Island
Concrete driveways and sidewalks are exposed to almost everything. If they stay damp, they build up algae and fungus. If they are near trees and bushes, they'll tend to have leaf stains. Vehicles that park or drive over your concrete will leave you with stains from tires, coolants, oil, and rust.
You've seen what happens when someone tries to power wash their driveway with a flimsy pressure washer and a wand.
It takes A LOT of time to do an entire driveway, one tiny two inch strip at a time.

It just doesn't look good. Using a home grade power washer and a wand will usually leave you with prominent striping.

Not all stains can be simply "blasted" away. Some stains will need the appropriate detergent and possibly heat to remove.

It just doesn't last. Just because you blast away organic growth, it doesn't mean that you've inhibited immediate regrowth.
So how does hiring a professional power washing company in Long Island solve these problems?
We use specialized, commercial grade, top of the line equipment that allows us to complete the job in a fraction of the time it would take to do with home grade equipment.

Because we're using the right tools for the job, you'll get a nice even finish with no streaking or unwanted stripes.

We know which detergents to use on your concrete to make sure that the stains are removed.

We pretreat your concrete to kill organic growth, not just blast it away. This way we are reducing the chances of immediate re-growth and making the habitat inhospitable for algae growth. This way, you get more bang for your buck, and a longer lasting clean.
We'll go out of our way to make sure that you are happy with the power washing results we leave behind on your driveway, patio or sidewalk.
Power Washing your Long Island Home Surfaces:
Contact us for a free Power Washing quote