Long Island Holiday Lighting
Holiday Lighting Installer on Long Island
Leave Your Holiday Lighting and Decorating to us!
The Christmas and Holiday Season is a great time of year here on Long Island. Christmas Decorations and Holiday Lighting can really bring joy and holiday spirit to any home or neighborhood.
BIG OR SMALL design projects we can provide you with the most impressive lights and decorations in the neighborhood. We have dozens of design ideas and pictures of our completed jobs to help you decide what custom design will best bring out your home's features.
Our goal is we will exceed all your expectations. All of our products are of commercial grade and not found at any retail location.
Every bulb and strand of lights is guaranteed to work throughout  the entire holiday season while installed. In fact, a feature built into our installation on your home is a 24 Hour Service Call Program which will guarantee a visit for any concerns that you may have with any of our installed products for the duration of the season while our holiday decorations are on your home.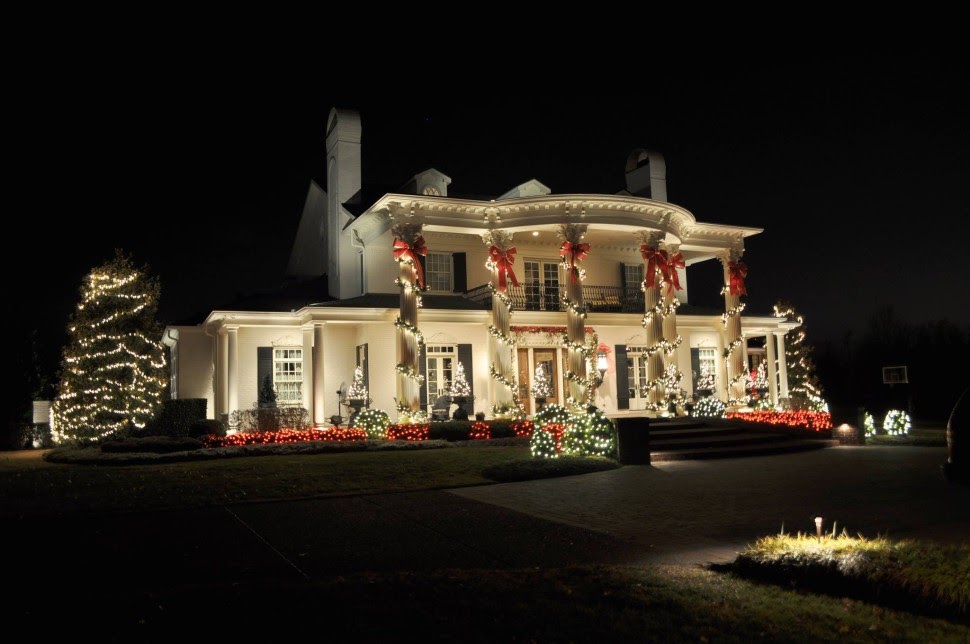 Avoid the Holiday Light Nightmare This Year!
Are you dreading having to take out those Christmas Lights again this year?
Do you hate all those lines of lights, the thought of making sure all the bulbs work right, only to find out that some of them are not working after you just hung them on the roof?
Or how about that annual visit to the attic and having to search through boxes of tangled holiday lights and Christmas decorations or the thought of climbing on ladders, trying to navigate on slippery walk-ways and those roof top close calls?
Not to mention you are going to have to take them down at some point, possibly in the snow as well !!!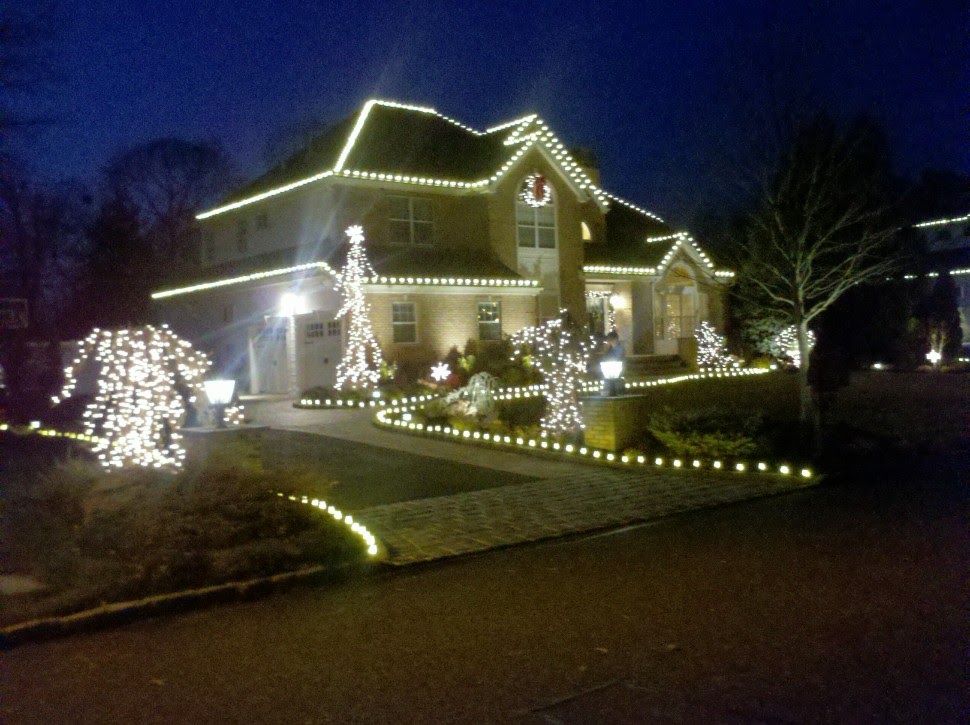 LET US HELP INSTALL YOUR HOLIDAY LIGHTING!!!
At Long Island Helpful Services we want to make it possible for you to spend all of your time with your family and remove all the hassle, frustration and danger associated with hanging Christmas lights and installing holiday decorations for your home.
We want you to have fun with your family and relax and know that we can satisfy all your Christmas Light and Holiday Decoration Needs.
Remember we guarantee the operation of your holiday lights throughout the holiday season with free service calls.
Safety First Stay off Dangerous Ladders, Our Technicians are Height Certified!
We bring you the very latest in product technology, the safest installation methods available; as well as, a  proper installation using all of the latest safety techniques and equipment in the industry, such as OSHA approved ladders, aerial lifts, bucket trucks, proper scaffolding, extendable decorating poles, safety harnesses and  electrical equipment which will get the job done safely, properly and on time. Our company is fully licensed and adequately insured to give you utmost peace of mind.
Some of the top of the line products that we offer are:
LED (high efficiency) C9 lights, decorations and displays
Heavy duty commercial grade white and colored mini lights
Christmas yard displays and decorations (big selections)
All size lit and decorated wreaths (lit and unlit)
Beautiful lit or unlit Noel garland
3D light links (strands of lights with intermittent spaced decorative lit designs in between) ice flurries-icicles-candy canes-snowflakes-stars- and more
3D starbursts all sizes (look gorgeous hung around the yard and in trees etc.)
Dual Battery Backup Digital Timers, controllers, photocells, light boxes for light shows, etc…
Custom Design & Free Installation
Your decoration and lighting person will evaluate all the best options for your home and landscape while keeping in mind your budget and finding out what you have in mind as to your design and budget. There are no high pressure sales trying to sell you anything more than what you have in mind to meet your goals. WE WANT YOU TO BE HAPPY !!!
Attentive Service
Our priority is more than just getting your property looking amazing. We also do periodic check backs several times through the season to make sure all is working properly. We guarantee to be there within 24 hours to remedy any operational concerns.
Professional Installation
From the minute our trained technicians show up on the job (on a day convenient to your schedule), you will notice a superior teamwork that is very efficient and on a level of professionalism we believe is hard to come by these days. Our staff will show up on time, work hard, get the project done right the first time and clean up and leave your home the way we found it.
Post Holiday Take-down
Once the holiday season ends we will come to your home and at your convenience carefully remove all Lights and Décor. We will remove, clean and label all items taken off your home.
We will then pack and store all your items in over-sized protective sealed bins to be placed in our secure warehouse until next holiday season.
Every bulb, every light strand, every decoration display is tested before it gets reinstalled on your home the next year.
Our top of the line service continues all the way through from design to removal.
Our PRODUCTS AND SERVICE are fully guaranteed as our Primary Goal is to make the holidays the best for your family and friends and bring whatever joy we can to you so that you recommend us to everyone you meet.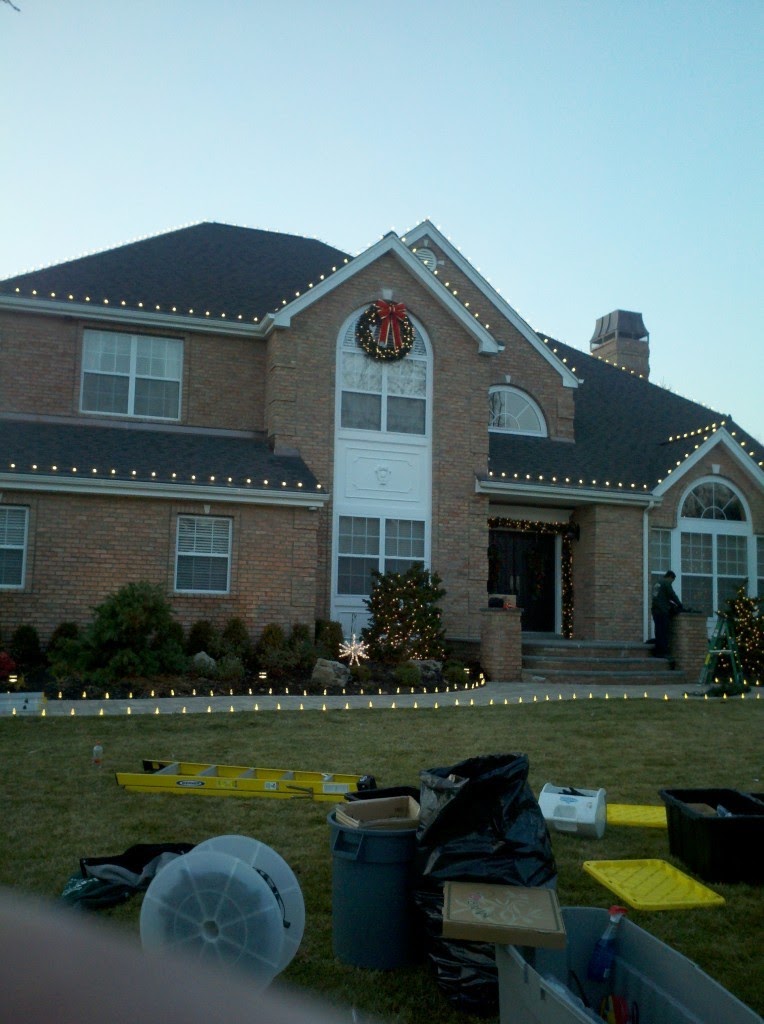 Contact us today for a free holyday lighting quote