Before You Hire a Window Cleaner in Long Island
Before you hire us as your window cleaning service, or hire any contractor for that matter, I'd advise you to do your homework and check their credentials. What I mean by this is research the company. There are several ways to do this. The first and best in my opinion, is customer reviews. There are numerous sites on the web you can pull reviews for company's from. If you do a search "Company's name Long Island reviews" it will pull up several sites that give honest reviews. I'd encourage you to take the time looking for these over reading the reviews directly from a company's website. There is no guarantee the reviews on a website are honest or real. They could easily be made up fake reviews.
Where to Look for Real Window Cleaning Reviews
After you've done your search, sites like BBB (Better Business Bureau), City Search, Google Local Businesses on the Maps and Angie's List will come up. Sites like these usually have fair honest reviews. Angie's List is probably the most accurate. They specialize in gathering true honest reviews from their customers that have used us contractors. These reviews are near impossible to fake or make up.
How to Hire a Window Cleaning Company
If you've honestly done your homework, then there's a good chance you may be giving us a call. It would be egotistic for me to say we are hands down the best window cleaning company in the Long Island area. There are several other good company's as well. But we can confidently say we are "one" of the best. When you call we will walk you through our online bidding process and we won't pressure you to schedule. I don't like being pressured and believe in the saying "Treat others the way you want to be treated"
We are the only  company on Long Island to offer the "Sky Vac" cleaning system. This system allows us to safely vacuum your gutters from the ground level with a high powered vacuum and telescoping poles. There is no longer a need for ladders that can result in injury and or damage to your gutters and siding. This system is so powerful that we bring our own generators and there is no need to plug into you're home. The "Sky Vac" also has a remote wireless camera to inspect and present before and after pictures of the service upon request.
We start with a FREE, prompt, courteous, professional, initial visit from one of our award winning design consultants.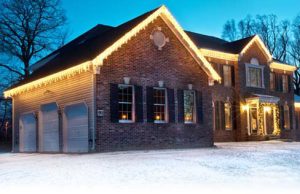 The designer will ASK YOU WHAT YOU HAD IN MIND FIRST,  then show you all your possible options big or small, as well as show you samples of our lights and displays that we use.
We have a picture portfolio of over 800 completed jobs and come up with a design on paper that will wow all your family, friends and neighbors.
We have a large catalog of lights, products and displays we will leave with you on our initial visit. Our designs are world class. We will design around your budget and needs.
We have the latest design software to show you what your house will look like decorated. Perhaps you could e-mail us a picture and we can give you some ideas.